"The harvest is plentiful."  These words of Jesus Christ are as relevant today as they were two thousand years ago. Indeed, the missionary fields are enormous and scattered all over the world. There are those who wish to work in these missionary fields, but one very important question stops them: "Where do I get financial support for my missionary ministry?"
The mission department, supported by the Association, took up the pertinent issue of creating a special fund for missionary ministry. Having learned that some American churches and Christian organizations use thrift stores to bring in extra profits, the heads of the Association decided to apply a similar practice within the Slavic community. A person was found to lead this project and surprisingly, all issues with warehousing and inventory were resolved in astonishing ways.
When it came time to choose a location, it was discovered that purchasing a store would be much more profitable that renting one. God's hand was seen in this situation as well; a new building, located in a good area for a relatively inexpensive price, was found and purchased by the Association.
The thrift store is currently open and it brings in a reliable source of revenue. We invite everyone to participate in this important ministry by donating items to the store. The store accepts furniture, electronics, clothes, children's toys, kitchen utensils, and other products.
Places to donate:
The Association office building, located at 639 Welland Way, West Sacramento, CA 95605 (in the same building as the office of the Nashi Dni newspaper)
Living Stones Church located at 10560 Coloma Rd, Rancho Cordova
At the Pacific Thrift Store itself, located at 6101 Watt Ave, North Highlands, CA.
If you have the opportunity, you are welcome to serve as a volunteer to sort items in the store. More information can be found in the video below.
Store Address: 6101 Watt Ave, Highlands, CA, near Second Baptist Church.
For questions and suggestions, please call: (916) 514-0154.Operating hours are from 9 am to 7 pm.
Thank you so much for your help in supporting the mission of the store! God bless you!
Store Flyer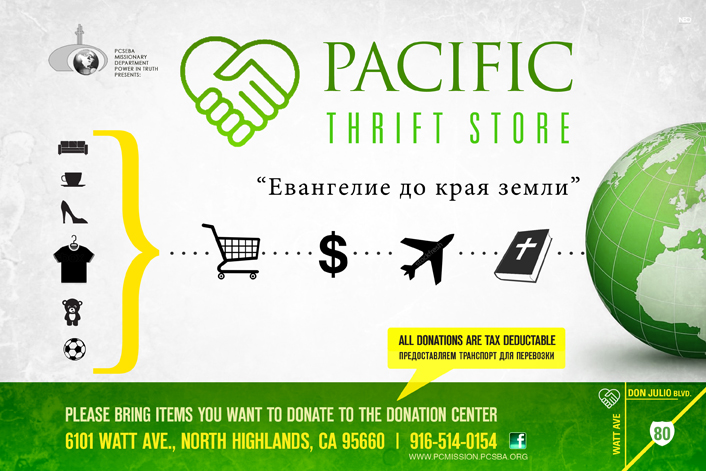 Photo taken during the PCSBA Committee meeting to decide on purchasing the store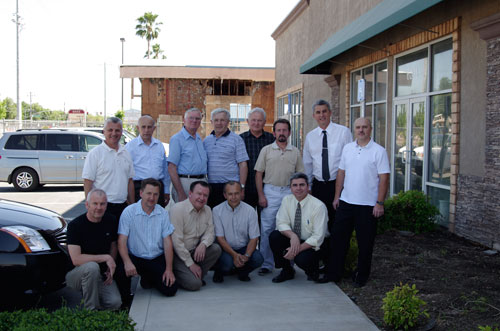 Pacific Thrift Store