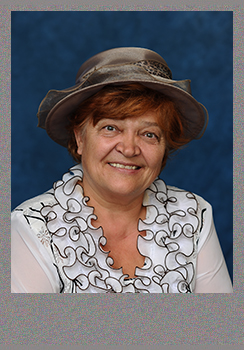 Nina Yurkova,Women Ministry Department Director

Almost all PCSBA's churches have women prayer groups. The purpose of the women ministry department is to maintain contacts with those groups, be aware of their needs, to pray for them and with them, and meet with them for spiritual fellowship, for seminars and conferences.
The staff of the department includes the leaders of prayer groups of local churches. Staff meets quarterly to address organizational issues.

The Department:
Nina Yurkova - head of the department,
Slavic Evangelical Christian Baptist Church, Castro Valley;
(510) 209-3298, e-mail

This email address is being protected from spambots. You need JavaScript enabled to view it.

или

This email address is being protected from spambots. You need JavaScript enabled to view it.

Valentina Kostrikina - Deputy Department Director,
Second Slavic Baptist Church, North Highlands;
(916) 835-6462,

This email address is being protected from spambots. You need JavaScript enabled to view it.

Nina Panasenko - Secretary
First Slavic Evangelical Baptist Church, Sacramento;
(916) 835-6462,

This email address is being protected from spambots. You need JavaScript enabled to view it.

Vera Kitsen - Spiritual Counseling
House of Gospel, Fresno;
(559) 930-5075,

This email address is being protected from spambots. You need JavaScript enabled to view it.

Mariya Gracheva, Spiritual Counseling
First Slavic Evangelical Baptist Church, Sacramento
Nadya Koryaka - Head of Prayer Women's Group;
(916) 991-1739
Third Slavic Baptist Church, Sacramento
Nadejda Warkentin, Treasurer,
Russian Baptist Church of Bryte
(916) 371-4138
Lubov Pratsuk, committee member
First Slavic Evangelical Baptist Church, Sacramento
Good Study materials